The Story Behind Al the Wops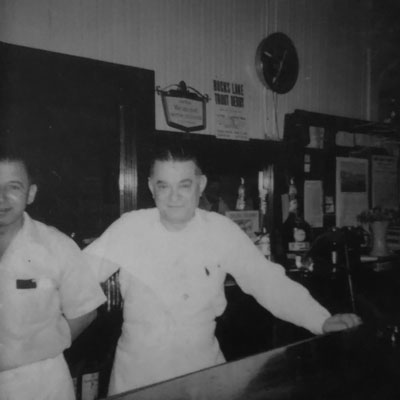 Al the Wop's was constructed in 1915 by Lee Bing and three partners who ran a Chinese restaurant here in Locke, California. In 1934 Al Adami and an associate came up the river from Ryde to become the first non-Chinese business in town. Later Al purchased the building from Lee Bing and continued in the business until his death in 1961.
From the beginning, Al's idea was for a place with no pretense, probably why he named it Al the Wops. The goal was to create an establishment for the working man, a place to "Come in, relax, and leave your worries outside."  From this many traditions were born. The first was the cutting off of businessmen's ties and leaving them at the front door. This tradition was followed by tacking dollars to the ceiling as homage to the people of Locke. This money was used to host an annual liver feed for the local people who had supported him.
Many of those traditions are still alive and well at Al's, the dollars are still on the ceiling, you are expected to take your tie off before you come in, and you definitely want to leave your worries outside.  In its almost 100 year history Al the Wop's has become a destination for bikers, boaters and tourists from around the world. We pride ourselves on holding on to the values that Al established. It's a place to leave your worries at the door, enjoy  good drink and food, and experience the community of the California Delta with your friends.
Hours
Monday: 11am ~ at least 10pm
(Regular Menu until 4pm Taco Monday 4 ~ 9pm)
Tuesday: 11am ~ at least 10pm
(Regular Menu until 4pm All you can eat pasta night 4pm ~ 9pm)
Wednesday: 11am ~ at least 10pm
Thursday: 11am ~ at least 10pm
Friday: 11am ~ Late
Saturday: 11am ~ 
Late
Sunday: 11am ~ at least 10pm
Al's kitchen is open 11AM to 10PM Friday ~ Sunday and 11AM to 9PM Monday ~ Thursday
Please see the Events listing for other special events or closures